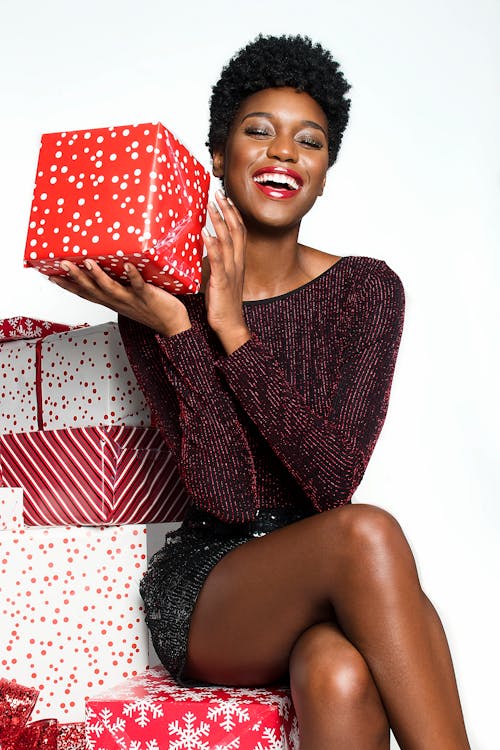 The holiday season is fast approaching, you are now hearing carols playing in the streets, alongside a smorgasbord of mouthwatering delicacies and foods.  This is the most wonderful, magical, and delicious times of the year!  However, it is also the season when people tend to eat unhealthy foods and drinks.  According to a study commissioned by US Highbush Blueberry Council, 74% of people tend to overdo it when it comes to eating unhealthy snacks and treats this season.  60% of these experience guilt after the holidays over the unhealthy eating habits.[1]  Moreover, "Holiday get-togethers tend to lead people to consume sugary treats and drink alcoholic beverages more than usual," says Academy of General Dentistry spokesperson George Shepley, DDS, MAGD.[2]  This is the season of celebrations and giving but don't forget to give yourself the perfect gift – a healthy smile!
During this busy time, it is important not to neglect the basics of good oral hygiene.  Keep your mouth and teeth healthy by following our proven tips on how to care for your teeth through the holidays:
How Often Should I Floss?

Flossing and brushing is something that should be maintained throughout the year; not just during the holidays!  With all of the rush this time of year, it is easy to let such basic things fall by the wayside.  It is important to keep your teeth healthy through the holidays by brushing at least two times a day for two full minutes together with flossing and gargling mouth rinse.  This may not be your most favorite part of the day, but your teeth will thank you for it!  In addition, this will help your chaotic schedule be a little less hectic by hopefully avoiding an emergency trip to the dentist during this busy time.

Eat Your Veggies!

The holiday season means reuniting with friends and families, but this is often done while nibbling and munching on unhealthy foods. Many of these foods are unique to this particular time of the year, so a little splurge on some decadence won't hurt.  However, it is important to balance it out with healthy fruits and vegetables.  It is also important to remember the other basics of good dental health during these busy times, like keeping up with regular brushing and flossing, and making sure to drink plenty of water

Steer Clear from Soda

We all know that holiday get-togethers can be filled with sodas, and we all know that these beverages can wear away the enamel of your teeth.   Try choosing sparkling water rather than soda.  Also, using a straw can help reduce the acid that contacts your teeth.

Sweet as Sugar

Don't overdo the candy canes! The sugar from treats like candy canes and holiday cookies can wear away at your teeth.  The more time that your teeth are exposed to the treat, the higher your risk of developing cavities from it will be - cavity-causing bacteria thrive during the holidays for this reason!  So, after enjoying these treats, remember to rinse, brush, and floss – whatever you can do to wash away the bacteria and reduce your risk of developing cavities.

Cheers to You!

Have you invested in different whitening procedures during the year, then find yourself waking up on New Year's Day with discolored teeth? While it remains a great source of antioxidants, red wine is a huge culprit in tooth staining.  To combat this, you can choose lighter-colored wines, and be sure to rinse your mouth out during the evening to give your mouth a fresh start.

It Ain't Easy Being Cheesy

One great way to balance off the acids from your favorite wines and other beverages is to munch on cheese. Cheese can neutralize the acid that comes with your drinks, helping to regulate the pH of your mouth.

Don't Run with Scissors...But Do Use Them!

It can be tempting to open a bag, or even a bottle with your teeth – after all, they are so convenient! However, doing so can put undue stress on your teeth, and can cause them to chip or crack.  If the tooth already has a cavity or a small crack in it, it is much more likely to fracture from something as small as opening a bag.  To prevent this, use the proper tools in opening gifts, bottles, snacks bags and others.  This will save you from the unintentional damage to your teeth and keep you away from the pain of cracked tooth and emergency dental procedures.

Don't Forget About Us!

After all the festivities and unhealthy eating, it's good to check up on your teeth and evaluate for any damage that may have been done. Our team at Energetic Smile can help you clean and brighten your teeth.  We'll help you achieve the healthiest smile possible, and get you ready for the New Year!
FAQ:
Q: What causes dry mouth?
A: There are several causes of dry mouth. Dry mouth can be caused by many medications, especially medications for high blood pressure or for diabetes. Dry mouth is also linked with aging. If your dry mouth is medication-induced, do not stop taking your medication without consulting with your physician.
Q: Why is my dry mouth worse at night?
A: Nighttime dry mouth is very common, especially among people who breathe out of their mouths when they sleep. In addition, those who use devices for sleep apnea, like a CPAP machine, often experience more severe dry mouth.
References:
Paul, Sam (2017, December 21). 'Festive stress' is ruining America's holiday season'. Retrieved from https://nypost.com/2017/12/21/festive-stress-is-ruining-americas-holiday-season/ (Accessed June 9, 2018)
Academy of General Dentistry. Give Yourself the Gift of Good Oral Health this Holiday Season. Retrieved from http://www.knowyourteeth.com (Accessed June 9, 2018)